Image: Indianapolis, Indiana
The past two years have been challenging for the entire world. While not immune, the state insurance guaranty system navigated the choppy waters successfully. Not only has there been no interruption in service to insurance policyholders, but also a number of major goals were achieved. In 2021, NCIGF further established itself as the ultimate source of information and support when a property and casualty insurance company fails. Developments in technology, data security and public policy have solidified NCIGF's critical role in state insurance regulation. NCIGF members were united under their policyholder protection banner and NCIGF continued to provide value to all stakeholders. NCIGF's presence continues to bind our community together in pursuit of our policyholder protection mission.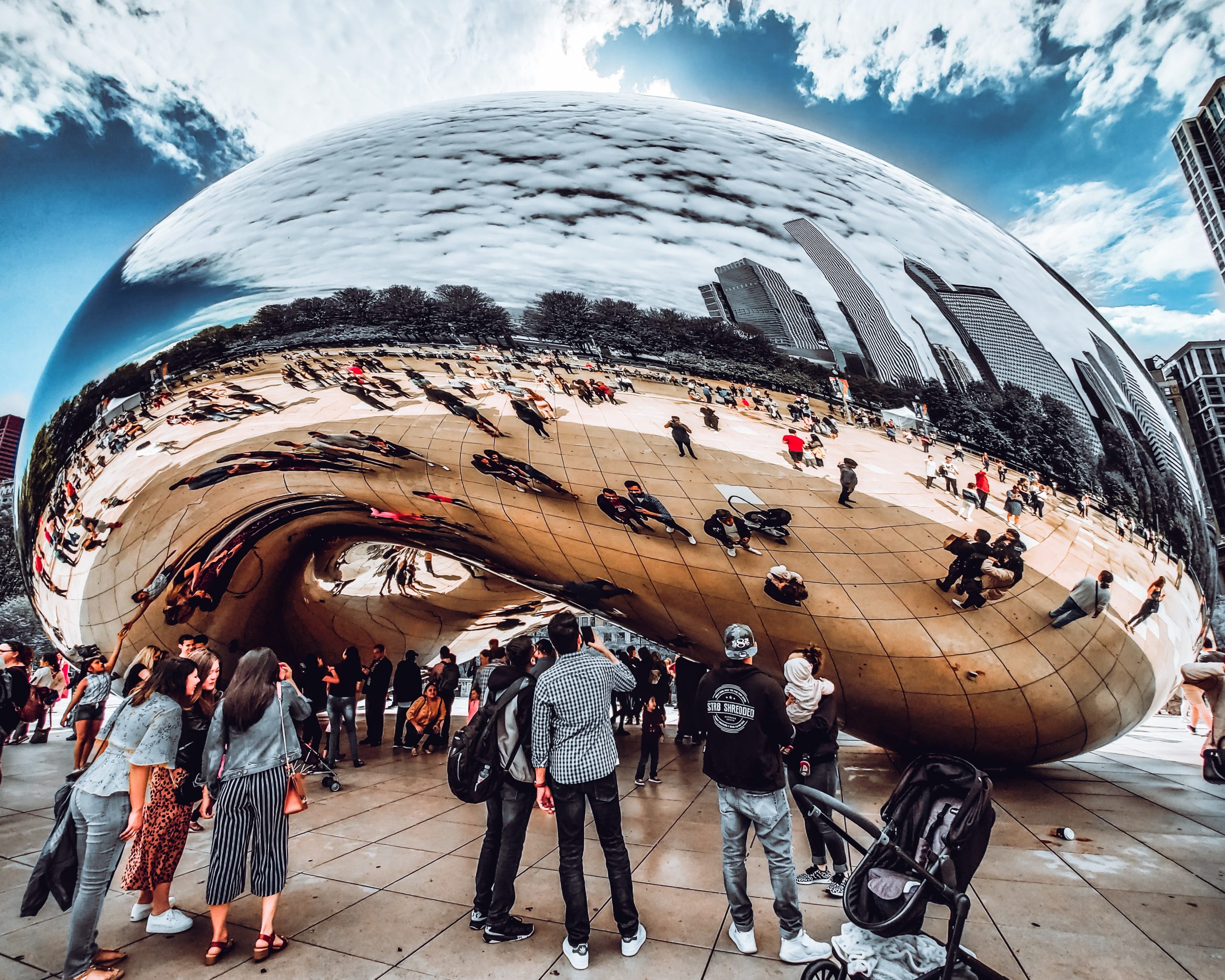 Image: Cloud Gate "The Bean" Chicago, Illinois
To be the definitive national leader on matters related to insolvency and its consequences to policyholders and claimants protected by the state-based property and casualty guaranty fund system.
Image: Independence Hall, Philadelphia, Pennsylvania
To bring the greatest possible value to the member state property & casualty guaranty funds and the state-based guaranty fund system in operational support, communications and public policy development.
Image: San Francisco, California
A Video Message from NCIGF Leadership
A Video Message from NCIGF Leadership
Key Accomplishments
Scroll through using the arrow buttons or your touch screen to view each accomplishment
NCIGF Public Policy Efforts
In 2021, NCIGF efforts to promote an acceptable approach on large deductible programs came to fruition after more than 20 years of engagement...
NCIGF collaborated with the NAIC Large Deductible Working Group and Receivership and Insolvency Task Force to develop a guideline that says the Large Deductible asset will insure 100 percent to the state guaranty fund to the extent of their claims payments, resolving a 20-year conflict with regulators. The disagreement concerned disposition of the deductible asset – usually in the form of collections from policyholders and collateral drawdowns. Guaranty funds have asserted that these recoveries should inure in full to the guaranty funds. Receivers often take the view that these amounts are general assets of the insolvent estate – meaning all creditors would take a proportionate share in accordance with the state's priority distribution statute. The deductible amounts are quite often $100,000 or more making this a a significant issue of dispute. During the past two years NCIGF has worked with the Large Deductible Working Group at the NAIC to develop guidelines on the matter. At its Spring 2021 national meeting, the NAIC agreed to the NCIGF proposal.

Restructured business statutes that would authorize insurance company divisions or insurance business transfers (IBTs) continue to be adopted in various states, generating concerns about the status of guaranty fund coverage. The matter is particularly urgent in that both division statutes and IBTs make it clear that there is no remaining liability on the part of the transferring entity for the claims transferred under these statutes. The NCIGF Board of Directors adopted a position on this matter stating that if coverage existed on a claim before the restructuring transaction it should remain in place after the transaction.  Conversely, if coverage was not available before the transaction it should not be created by the transaction.  As many current guaranty fund laws may not resolve these claims in this way, NCIGF developed a statutory remedy.  This remedy has been adopted in three states and efforts continue to promote the amendment in additional jurisdictions.
Cyber Security Insurance Coverage in Insolvency: Cyber security insurance coverage in insolvency is an evolving issue. No specific policy forms have thus far been developed to address these risks. Moreover, the policies provide notification, remediation, and forensic services along with claim payments. Response time to provide such services is often quite short. Should an entity that covers these risks become insolvent and be ordered into liquidation the guaranty funds would be called upon to act. The NCIGF has developed statutory language in this regard and will be implementing educational programs for our own member community, industry groups and organizations such as the NAIC.
Relationships with NAIC and Regulators
Throughout 2021 NCIGF continued to educate regulators on the need for pre-liquidation planning and offered specific proposals in this regard...
NCIGF continues to interact with the NAIC's Receivership Financial Working Group (RFAWG) and the Financial Analysis Working Group (FAWG) and had the opportunity to present to both groups on the need for pre-liquidation collaboration with regulators and receivers. NCIGF is continuing its efforts at the NAIC and as opportunities arise in various states. NCIGF briefed the Receivership and Insolvency Task Force (RITF) at the April NAIC meeting. At the state level, proposals in Illinois and California were progressing at the end of 2021.
Insolvency Support and Customized Services
NCIGF, working through its subsidiary Guaranty Support Inc. (GSI), was a key player in multiple insolvencies affecting nearly all NCIGF Members...
Here's a summary of GSI's insolvency activity:
ASI Pool Companies: Assisted the Illinois Office of Special Deputy in receivership with the transfer of claims images and creation of a custom process to extract policy documents from the Atlas Systems.
Bedivere Insolvency: One of the most complex insolvencies in recent times, GSI owned the entire UDS production pipeline under the direction of the Pennsylvania Liquidation Department.  Bedivere claims and policy information from inception to date was extracted from 7 different companies. GSI produced over twenty thousand A records, and well over five million F, G, and I records. Additionally, GSI created a custom process to facilitate the transfer of claims between states as the general data typically used to identify a destination state was unreliable.
Physician's Standard Insurance Company: Previously captured claims data was refactored to replicate the functionalities of the company's original claim system. This resulted in the estate to still being able to run reports and mine information, while not incurring the expense of a hosted claim system.
Gulfstream Insolvency: Gulfstream was an insolvency in partnership with the Florida Department of Financial Services. This insolvency was comprised of an enormous volume of data from five different systems under a strict schedule. Additionally, this was the first instance of GSI creating non-UDS data for a receiver. GSI created DFS' proprietary format called OLCP which has higher standards for data completeness and scope than UDS. GSI gathered, filtered, transformed, and sent over fifty million records to DFS comprising policy information, claim information, policy documents, and claim documents. While there were intense time pressures, the GSI team was able to rise to the challenge and deliver data on a schedule satisfactory to DFS.
Louisiana Insolvencies: GSI has assisted and continues to assist the Louisiana Insurance Guaranty Association in processing their unprecedented volume and velocity of insolvencies. GSI has created custom integrations into specialty systems for the Louisiana Guaranty Fund to scale to meet their demands. GSI is responsible for the entire data production pipeline for all insolvency data.
Ongoing Insolvency Work:

GSI has multiple insolvencies that it continues to manage (i.e. reopened files, first notices of loss, and image requests) for as long as the receiver and guaranty funds need.

GSI has multiple insolvencies that it continues to manage reopened files, first notices of loss, and image requests for as long as the receiver and guaranty funds need. These insolvencies include WNIC, ASI Pool, and PSIC.
In addition to insolvencies, GSI produced several other custom projects directly providing value to multiple NCIGF Members. These projects have been centered around Proxy Voting Apps, Web Development, and Cloud Infrastructure. A summary of those projects can be found below:
Multiple Proxy Voting Apps: Ongoing work with multiple guaranty funds for proxy voting to ensure that their proxy voting apps are ready to ease the voting process when needed.

Hawaii Insurance Guaranty Association

and Hawaii Unico Insurance Department: GSI has partnered with HIGA, HUID, Lightspeed, and Laserfiche to refactor their entire claim system environment into the cloud. This project is still ongoing but is expected to be complete in mid-Q2.
California Insurance Guarantee Association Website: GSI worked with the California Insurance Guaranty Association to refactor and improve their main public-facing site. The improvements GSI was able to make included an updated look and feel, mobile device compatibility, and updating elements in the site to be ADA/Web Accessibility compliant.
NCIGF Data Security
Data security will always be a top priority for NCIGF because of the interconnectedness of the entire system...
PEN testing was done on the SUDS system as well as the Data Mapper and MemberConnect and NCIGF received high marks on all fronts, setting the standard throughout the community. In November of 2021, NCIGF produced another data security survey to help individual funds understand their cyber security posture and identify areas of improvement. All results were confidential and a plan as well as a hub on the NCIGF member site was created to help bolster those who needed additional support.The follow up and additional efforts to advise and assist funds will remain a top priority throughout 2022 and beyond.
System Wide Data Security
Created in 2020, the Web of Trust Task Force (WoTTF) was appointed to strengthen the data security posture of the entire community...
In 2021 NCIGF completed all of the board approved recommendations from the task force. The recommendations included assisting members in raising guaranty fund security profiles. NCIGF followed up on the 2020 data security survey by reaching out to members to analyze results and help identify methods, practices and systems based on the WoTTF Information Security Guidelines. Also, a 2021 Security Survey was created with member consultation. The survey was developed (based on the Information Security Guidelines) to assess progress in improving the information security profile of individual guaranty funds and the system. The survey was completed in November of 2021.
NCIGF also produced a monthly data security legal update focusing on legal and technical developments and state legislative actions relating to data security and privacy. This report was presented to NCIGF members to further raise the level of awareness concerning regulatory compliance issues that may impact state guaranty funds and the entire guaranty fund system. The taskforce also worked with the Public Policy Committee to develop a communications strategy and outreach plan to engage members of guaranty fund state boards and state regulators to educate them on the efforts of guaranty funds to: a) address information security concerns, b) increase awareness among guaranty fund employees, and c) improve guaranty fund security profiles individually and as a community. The goal was to assist guaranty fund managers in achieving reasonable standards and promote state board governance of data security processes.
Committee Structure
After 18 months of discussion and feedback from NCIGF membership, a new committee structure was approved in late 2020, and implemented in 2021...
The new structure is intended to achieve a more transparent and accessible NCIGF and to resolve most issues at the committee level with substantial member participation.  As 2022 dawned, additional steps were being introduced to help fully realize the potential of the committees.
Updating the Member Site for Optimal Engagement
In 2021 the NCIGF board approved the necessary budget to begin an overhaul of the current member site as well as the SUDS system...
The bulk of the work to improve these systems will be done in 2022 and 2023. However, the approval of these necessary updates was paramount because of the imminent need for a complete revamp to ensure the safety of our linked relationships in the digital sphere and proper handling of the claim files which is the prime mission of our organization.
New Directions/New ideas
In conjunction with the 2021 Fall Workshop, NCIGF hosted a separate member-outreach roundtable session entitled New Directions/New Ideas...
Under the leadership of NCIGF Board Chair, Mr. Chad Anderson, all managers were invited to brainstorm the future of the guaranty association community. Topics ranged from receiver relations, coordinating committees, governance of state boards, running a modern small business, and the potential of NCIGF in the coming years. NCIGF will implement some of the ideas discussed in upcoming initiatives and educational projects in 2022.
Governance Review and Member Participation Project
The governance review and member participation project analyzed all NCIGF corporate governance processes, member outreach and participation avenues...
The group, comprised of Governance Committee members as well as an Ad Hoc team of members, reviewed, strenuously evaluated, and suggested improvements to the processes and protocols of all main governance functions. More reporting and further implementation of the project's recommendations will take place in 2022.
Response to Covid-19
In response to COVID-19, NCIGF continued to leverage its online video platform...
This allowed us to maximize engagement and connection among members, offering 13 educational presentations spanning various guaranty fund related topics with an average attendance of 60+ at each session.These sessions will continue in tandem with in-person meetings to allow for the participation of support staff members throughout the country who have been able to participate and connect at a higher level with the virtual option (specifically claims, IT and HR personnel).
2021 Hybrid Fall Workshop
December of 2021 marked the first time NCIGF was able to host an in-person event since the start of the global pandemic...
For the health and safety of all involved, the decision was made multiple times to transition meetings to the virtual platform throughout 2020 and into 2021. However, the Fall Workshop finally provided the opportunity to resume hosting an in-person educational session for members. This event was a success and NCIGF rose to the occasion of creating a hybrid meeting environment to serve those still compromised or with travel restrictions in place by their organizations. Educational speakers and panels were live-streamed, and participants could interact virtually, asking questions, watching the event and even presenting utilizing RingCentral technology.
2021 Financials
Select each report for a larger view
2020-2021 NCIGF Board of Directors
Chad G. Anderson
Chair
President
Western Guaranty Fund Services
Joseph Torti III
Vice Chair
Vice President – Regulatory Affairs
Fairfax Inc.
Arthur M. Russell
Executive Director
Mississippi Insurance Guaranty Association
Chad E. Wilson
Associate Vice President, Government Relations
David G. Nadig
Senior Vice President & General Counsel
Jenny L. Anzalone-Ackley
Deputy Director, Assessments and Guaranty Fund Reporting
Chubb NA Office of General Counsel
Katherine J. Evans
Vice President of Regulatory & Government Affairs
Tamara W. Kopp
Executive Director
Missouri Property & Casualty Insurance Guaranty Association
Barbara Peterson Law
President & CEO
Guaranty Fund Management, Inc.
Christopher P. Roe
Senior Vice President Corporate and Government Affairs
J. Smith "Smitty" Harrison
Executive Director/Secretary
South Carolina Property & Casualty Insurance Guaranty Association
John C. Wells
Executive Director
Louisiana Insurance Guaranty Association
Larry E. Hinton
Senior Counsel
Timothy M. Schotke
Executive Director
Illinois Insurance Guaranty Fund
Bradley A. Roeber
Executive director
California Insurance Guarantee Association
D. Keith Bell
Senior Vice President, Corporate Finance
The Travelers Companies, Inc.
Jeffery C. Alton
Vice President, Finance
Joyce Hall Mellinger
Senior Vice President and Associate General Counsel
Michael D. Boge
State Counsel Section, Corporate Law
State Farm Insurance Companies
William M. Lynch
Vice President & Chief State & Local Affairs Officer, Public Affairs
Liberty Mutual Insurance Company
Roger H. Schmelzer
President & CEO
Amy J. Clark
Vice President & CFO, Director of Association Business Operations & Treasurer
Jeremy A. Sebring
Director of IT Services
Robin J. Webb-Reus
Communications & Member Engagement Director
John A. Blatt
General Counsel, Director of IT Strategies & Corporate Secretary
Ashley N. Rosenberger
Associate Legal Counsel & Corporate Secretary
Lynn Cantin
Meeting Planner
Richard L. Minnear
Lead Systems Engineer
Douglas P. Storz
Lead Programmer
Emily M. Jurey
Executive & Communications Assistant
Nate T. Jennings
Software Engineer
Kevin C. Leap
Manager of Accounting and Administration
Connor B. Inman
Business Systems Analyst
Victor M. Gichina
Graphic Design Intern
Steven B. Emerson
Software Engineer
Minh-Tri A. Dang
Communications Assistant